It's Gathering Season once again—one of our favorite times of the year. Whether you're planning your next holiday dinner, a quiet night with a few close friends, or a Sunday brunch with extended family, having a warm, welcoming dining room is essential for relaxing and indulging. Here are some of our picks for leisurely dinners, festive parties, and memorable moments around the table—whatever dining style you prefer.
Farmhouse romantic.
This oversized dining room is large enough to accommodate a small wedding party or your cousins from out of town. Forget the separate kids' table, this beautiful double dining room welcomes everyone to the same smorgasbord. Three chandeliers illuminate the space below and reflect light off the glossy shiplap ceiling. Plenty of painted white and natural wood elements keep the space airy and open. This is a romantic setting for any gathering!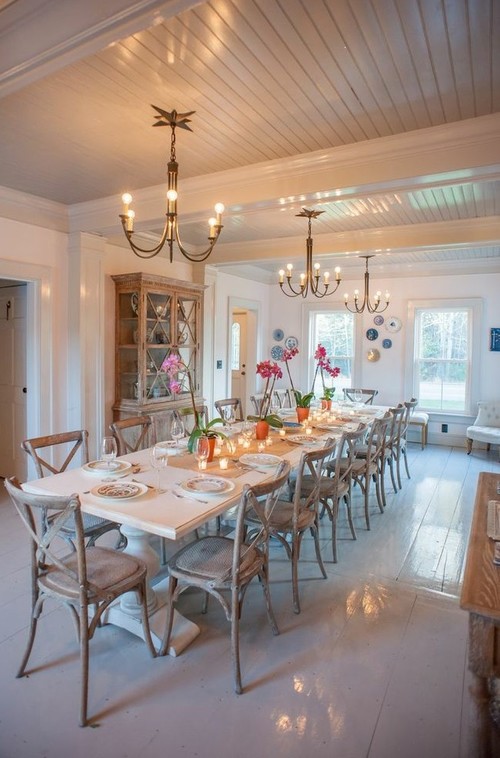 Classic traditional.
If you love the charm of a traditional, sit-around-the-table-for-hours dining experience, then this lovely room is a perfect choice. The warm red Oriental rug grounds the table and adds a splash of color to the mostly black and white décor. Classic black and white toile wallpaper adds to this timeless look. And the vintage chandelier is an unexpected personal touch. Throw another log in the fireplace to add warmth and ambiance as you share stories late into the crisp fall evenings.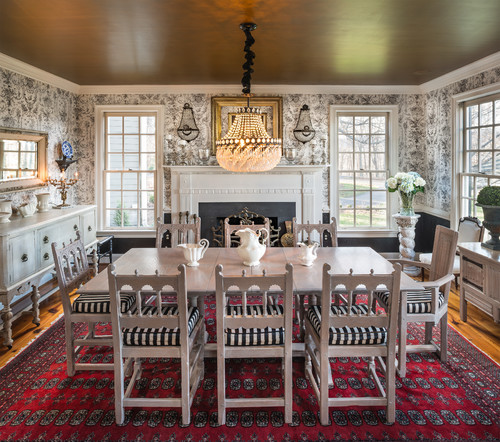 Modern cheerful.
Doesn't this look like the perfect place to enjoy a leisurely Sunday brunch? This room is a wonderful mix of muted, soft colors, bold patterns and cheerfully colored artwork. It's minimalistic, yet still feels very inviting with its cushy chairs. Round tables are among our personal favorites, too, for an easy flow of conversation and passing family-style delectables. After the plates are cleared, stick around for a card game or two—the to-do list can wait 'til later.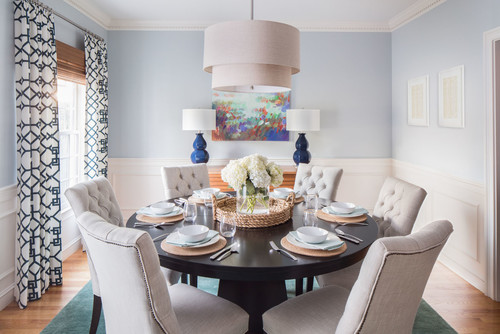 Natural beauty.
Imagine sitting in this simply decorated white, black, and wood kitchen on a cold winter's day, gazing out the window at the snow-covered lake. This dining room is a beautiful combination of floor-to-ceiling subway tiles and natural wooden beams. It's uncluttered, quiet, and lets you focus on the landscape outside without window treatments to obstruct your view. This inviting, informal gathering space calls the family to come sit with their favorite fuzzy slippers and robes—no shoes required.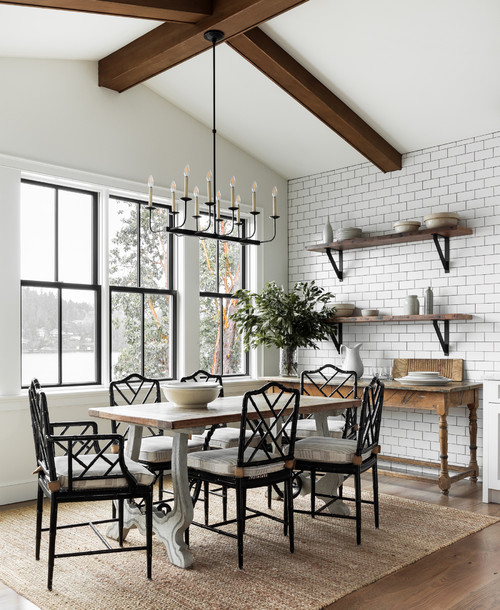 Open contemporary.
The perfect space for an indoor-outdoor party on a warm fall evening is one like this, absent of doors, walls, and other definitive boundaries. Guests can gather in this great room at the table, in the living space, or wander inside and out. Although this room is contemporary overall, the large Oriental area rug in warm rust colors makes the room feel a bit earthy, too. Cooking takes place on the oversized island and adjacent kitchen—not separate from the rest of the room—ensuring that everyone is part of lively conversations.