.
Make Space in Creative Ways
Even the smallest apartments can have a dedicated home office with the help of a dividing curtain. Make the most space out of that one-bedroom studio!
Create a Cozy, Functional Atmosphere
Do you have an old fireplace collecting dust? Installing a woodstove inside the vacant fireplace will warm up your entire house, make use of space, and create a cozy atmosphere.
Appliance Garage
Garages don't have to just be for your car! Appliance garages keep those bulky—but necessary—kitchen accessories out of view but close by for easy access. Forget the eye-sore.
Industrial Accents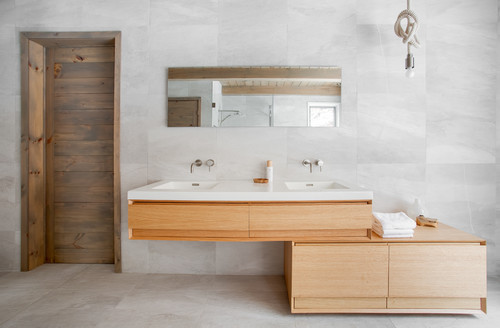 Photo by catlin stothers design – More modern bathroom ideas
Add textures like rope and bare metals to your otherwise fresh, chic bathroom for an interesting, industrial accent.
 
Cabinet Inserts
Cut down on clutter with cabinet inserts. In-drawer inserts can be made to custom fit any size, and keep your kitchen tidy.
Photos provided by Houzz.com