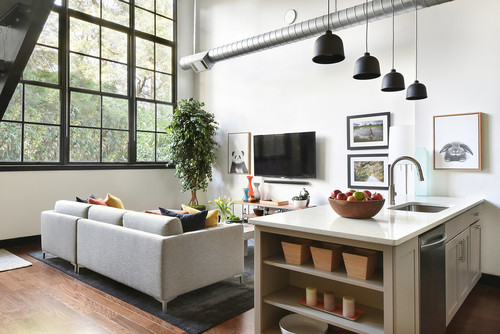 Lighting is one of the simplest (and often one of the most economical) ways to add beauty and personality to a room. From the kitchen and dining room to the home office, bathroom, or foyer, the right lighting fixtures can create the ideal setting for living and working—and perhaps no type of fixture is more versatile than the pendant light.
As the name implies, pendant lighting mimics the necklace style, in that it is a single bulb and fixture suspended from the ceiling by a cord, chain, or rod. Oftentimes, you will see pendant lights installed together in a line, for example to illuminate a kitchen countertop or bathroom sink. Below are 5 smart reasons to choose pendant lighting over other fixture types.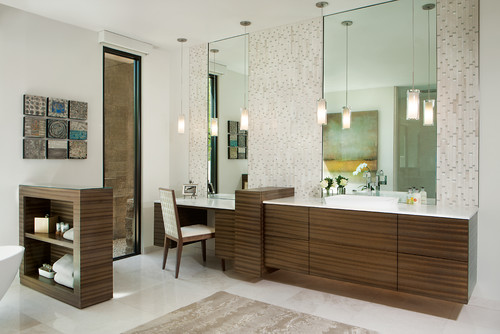 Affordability. As opposed to an expensive chandelier or a pricey recessed lighting installation job, a single pendant light can cost as little as $40–$50, making them an ideal choice for designers and homeowners on a budget. The best part? They still look just as elegant as many higher-priced fixtures.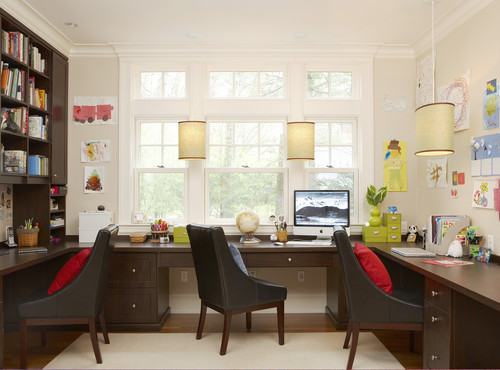 Space Saving. Floor lamps and table lamps take up precious square footage in any room, and exposed cords are not just unattractive but also a tripping hazard. This is especially true in small office spaces, where pendant lights truly shine. A pendant fixture or two over a workspace, as in the photo above, provides concentrated illumination while keeping clutter to a minimum.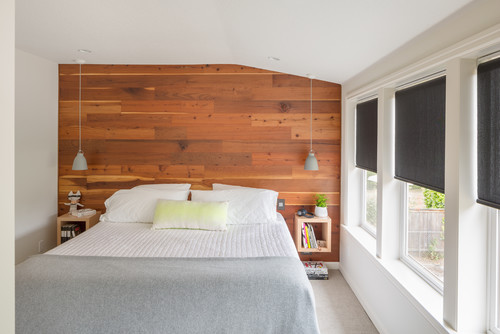 Versatility. Pendant lights are the perfect all-purpose fixture for any space in the home and come in a wide variety of shapes, colors, and materials. In addition, you can easily adjust the height of the lights to your liking, which is ideal in rooms with high ceilings. In the photo above, a simple set of pendant lights—where normally you would see table lamps—transforms an ordinary bedroom into a cozy retreat.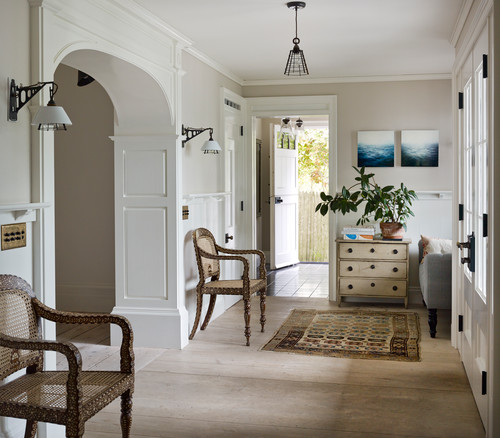 Easy Installation. One of the simplest (and quickest) types of fixtures to install, pendant lights are a favorite among DIYers because they can often be installed without professional assistance. In many cases, you simply need to attach the pendant light fixture over an existing fitting and voilà! Likewise, they are easy to remove and take with you when you relocate.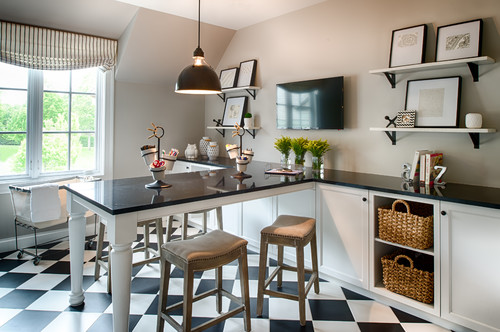 Focused Light Source. Nothing ruins the ambiance of a room like an ultra-bright light source. However, this is not to say that pendant lighting is weak. In fact, you can often get a wider, more focused column of light with a pendant fixture than with a large ceiling light. This not only helps to illuminate the surface of your countertops or work desk, but it has the added benefit of reducing glare.